Thinking of taking a holiday at Airlie Beach?  You probably already know that it's famous for the Whitsundays and the Great Barrier Reef, but this stunning destination has so much more to offer.  If you're about to plan your itinerary, keep this guide in your back pocket, because these are the top 10 things to do in Airlie Beach.
Our Top Things to Do in Airlie Beach
Yacht around the Whitsundays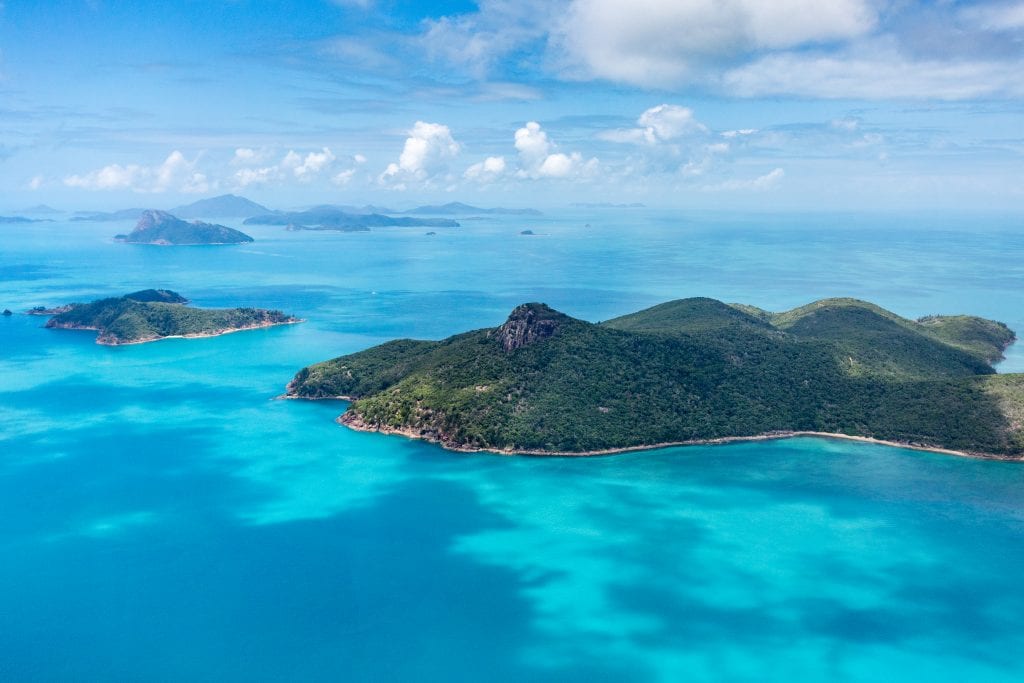 A Whitsundays holiday wouldn't be complete without some time spent snoozing on a yacht in the middle of the tropics.  If there's one thing you absolutely have to do when you're staying in Airlie Beach, it's hiring a yacht or a catamaran.
There's just something so luxe about exploring one of the world's most beautiful destinations your way, and you don't need to rush, either – most yacht charters let you rent per night, so you can even spend an evening anchored out in the calm waters between the islands, gazing up at the starts with your partner.  Is that romantic or what?
Visit Whitehaven Beach
If you're like us and you go on an online inspiration spree before booking your vacay, you've probably seen pictures of Whitehaven Beach.
This is the most famous stretch of sand in the Whitsundays, and you can't really say you've had a proper Airlie Beach holiday if you haven't had that perfect white sand between your toes.  It's located on Whitsunday Island, so you'll need to hop on a helicopter or charter a boat to get there.  The trip is definitely worth it, though – if you don't stack up those IG likes after posting a pic of Whitehaven, something's wrong.
Go on a crocodile safari on Proserpine River
We like safaris.  Who doesn't like safaris?  Everybody likes safaris.
And what's better than a regular, back-of-the-Jeep safari? A safari that takes you onto the water.  In a boat.  To see crocodiles.
Yep, we're not joking.  And not those tiny, three-feet alligators, either – Australian saltwater crocs range from 3.5 to 6 metres in length, and weigh between 200 and 1,000 kilograms.  Don't worry, it scares us too.
Luckily, the Proserpine River operators know their stuff, so you're perfectly safe (just keep your hands and feet inside the vehicle for the duration of the ride).
Snorkel the Great Barrier Reef
You were probably wondering when we were going to get to this one, right?  We don't blame you.
The Great Barrier Reef is probably one of Australia's most amazing attractions, and it's pretty much mandatory to at least explore it with a cruise.  But why stop there?
Slip into that bikini, slop on some sunscreen, and slap on a snorkel, because there's just so many incredible things to see here!  Dugongs, whales, sharks, turtles, stingrays, sea horses and over 1,500 fish species call this gorgeous place home, and that's not even counting the coral.
There's plenty of day trips to the Reef that depart from Airlie Beach, so make sure you squeeze this one into your itinerary.
Play golf on Hamilton Island
So maybe you're not a multimillionaire, but that doesn't mean you can't pop on your polo shirt and grab a set of irons when you're on Hamilton Island.  With sprawling courses, incredible views and a reputation for luxury, this is the place to play golf.
Those golf buggies are also pretty handy for doing a bit of island exploring, so don't feel bad if you ditch Hubby halfway through the game and speed off on a solo adventure.
If hitting small white balls isn't your favourite way to spend your Airlie Beach holiday, don't worry – Hamilton Island has everything from watersports to day spas to bushwalks.
Explore Bowen and Collinsville
You're probably visiting Airlie Beach for its incredible marine attractions, but that doesn't mean there isn't still plenty to do on the mainland.
Head north of the Airlie township and you'll run into Bowen and Collinsville, two tiny rural communities at the top of the Whitsundays Coast.
Bowen's biggest drawcard is the Big Mango (yup, it exists!), as well as Horshoe Bay (snorkelling and great views) and Peter Faust Dam (barramundi fishing).
Collinsville isn't as well-known, but we think you should definitely give this little place a chance!  It's home to Queensland's oldest operating mine (the Collinsville Coal Mine), and has a bunch of cool historical attractions like the Coal Face Museum and the Historical Display Centre.
Hike in Conway National Park
If you're craving a bit of peace and quiet out in nature, you can't beat a hike in Conway National Park.  Complete with rainforest walking trails, secluded beaches and panoramic lookouts, it's arguably one of the prettiest trekking areas in north Queensland.
It's also home to Cedar Creek Falls – this 'gram-worthy waterfall tumbles over a series of rocky outcrops and culminates in a beautiful natural swimming hole.  You can find a full map of Conway National Park's walking trails here.
Enjoy seafood at sunset
There's almost nothing as nice than a romantic sunset dinner with your significant other, but we've two ways to make it even better: incredible seafood, and views of the Whitsundays.
We know there's lots of delicious dining options in Airlie Beach, but you should definitely set an evening aside for a spot of oceanic yumminess.  Try fresh-caught fish, go casual with some salt 'n' pepper calamari, or take things up a notch with champagne and oysters (trust us, it's an amazing combo).
You can find our full list of Airlie Beach's top 8 restaurants here.
Skydive above Airlie Beach
Skydiving. Above one of the world's most incredible locations.  With unmatched views of the Whitsundays and the Great Barrier Reef.
That sound you just heard?  It's us, squealing with excitement.
Even if freefalling at 220kph for a full 60 seconds scares you, it's the ocean panoramas that will really take your breath away.  Skydive Australia calls Airlie Beach "Australia's most beautiful drop zone", and, hey, they're not wrong.  It doesn't get better than this.
Enjoy your resort's beautiful amenities
What's a holiday without a little 'me time'?
We get it.  You've been working hard, punching those 8-5 hours every week for the past six months, and now you just need a break.
No, not a bunch of crazy activities, but a few days where you relax, get pampered and do absolutely nothing.  Luckily for you, Club Wyndham Airlie Beach has everything you need to make the most of your getaway without leaving the property.
On-site fine dining establishment Tides Restaurant and Bar is all about the seafood and the views – if you want to treat yourself, check out their degustation menu.
Gone a little overboard on the dessert?  Don't worry.  You can pop into the fully-equipped gymnasium the next morning, and then cool off with a poolside cocktail.
Al fresco dining, amazing views and Absolut – Club Wyndham Airlie Beach has it all.
---
And that's it – our top 10 things to do in Airlie Beach!  Think we missed something?  Let us know on Facebook or Instagram.
If you enjoyed this article, we'd love it if you subscribed.  We regularly post helpful guides about what to do and where to eat in some of the world's most amazing destinations, and we're up-to-date on the latest and greatest in the world of holidaying.
---
Related Posts