From the sands and salt of The Cook Islands where it all began, to wandering through Asia's cultural treasures and exploring Australia's gems, adventure photographer and travel marketing creative Scott Pass (@scottypass) takes us with him in his latest wanderlust escapade to the vibrant and picturesque town of Airlie Beach.
Scotty, who enjoys showcasing a wide variety of the greatest bucket list destinations and experiences, aims to create an insatiable need to explore and wander through creating light-hearted and comedic inspired vlogs that captivate the beauty and picture-perfect wonders of many remote and desirable places across the globe.
1. We are very envious of your recent trip to Club Wyndham Airlie Beach. What do you think makes the Whitsundays so 'photographable'?
Like many of us, escaping to a remote island paradise conjures up thoughts of white sand beaches, palm fringed atolls all coupled with visions of escapism and relaxation. Think of your idyllic island escape and the Whitsundays are always at the forefront of that list.
Seeking solidarity and a rest from the repeated work cycles of our busy lives no doubt help feed the curious minds of travellers looking to explore the shores and waters of the Great Barrier Reef – more specifically, the exclusivity and charm of Australia's Whitsunday Islands.
With so many options available for visitors travelling both internationally and domestically, The Whitsundays offer a diversified range of travel options suited to every budget.
What makes it so photogenic is the connection of ecosystems in such a relatively close proximity. One minute you could be exploring the rain forest and waterfalls, the next, you're diving on the reef. This close environmental proximity makes the region a fantastic location to photograph.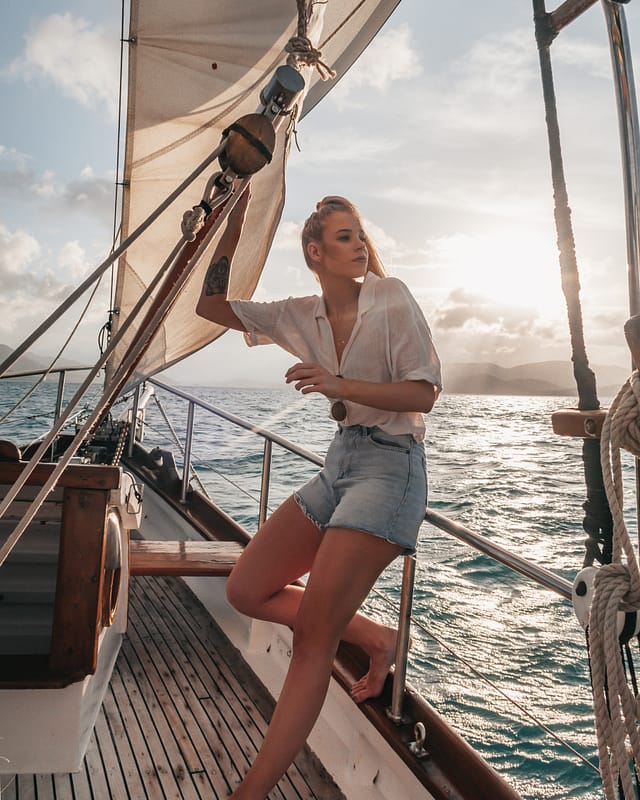 2. What is the favourite adventure experience you got to have while staying at Club Wyndham Airlie Beach?
Club Wyndham offers visitors a really unique experience to explore, relax and unwind – it's the ultimate all-in-one. Being so close to the main street of Airlie Beach, but also with it's very own sweeping panoramic views really provide guests with that something special.
Our favourite adventure experience was undoubtedly that with GSL Aviation – a scenic helicopter flight over The Whitsundays. To top if all off, our experience included a beach landing on Whitehaven Beach. It was a jaw-dropping experience that took our breath away.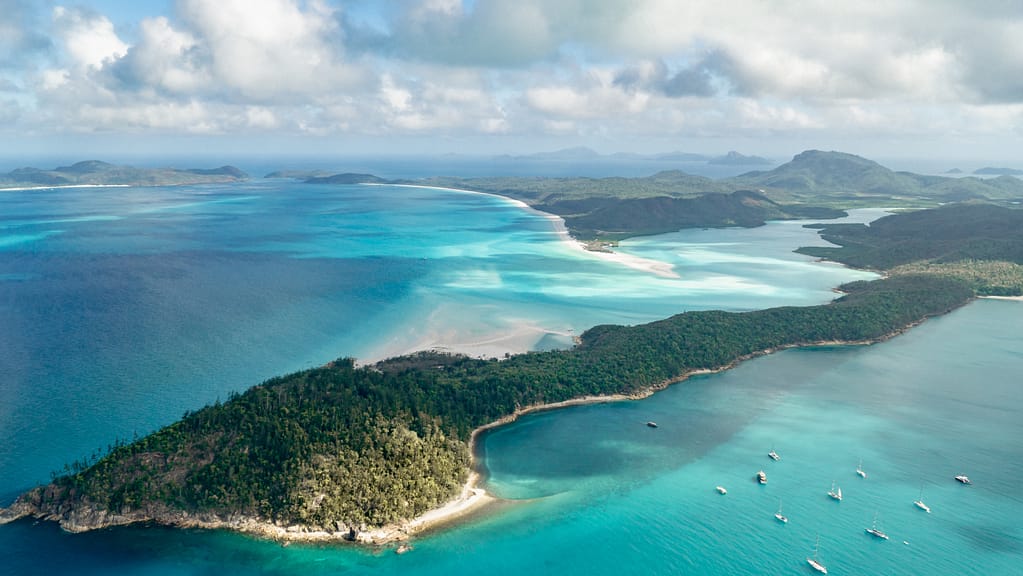 3. Share with us your favourite shot – what do you love about it?
My favourite shot from the trip was that of the Hill Inlet from the air. We took off from Whitehaven Beach, making our journey back to the airport – but before all that, a broad, aerial panoramic view was captured as we flew towards the Whitehaven Beach hill inlet.
This iconic landscape sees the swirling sands, ever-changing tides and azure hues intertwine for as far as the eye can see. My favourite image I've ever captured throughout my travels to date has to be that of the Moreton Island shipwrecks.
4. Why do you think our brand philosophy of turning your bucket list into reality is so important?
It's one thing to dream about taking part in bucket list experiences, and yet another to actually see it and do it for yourself. I think the brand philosophy looks to encompass a little bit of courage – to really step outside those comfort zones and get amongst the bucket list items you've always dreamt about. The philosophy of turning moments into memories through bucket list experiences is all encompassing.
5. In 2020, you are travelling to Torquay, Phillip Island, Mount Hotham, Dunsborough, Bali, Coffs Harbour, Flynns Beach and Shoal Bay. Which destination are you most excited to photograph?
We're really looking forward to capturing moments and experiences in Perth and also Kaui, Hawaii. Perth offers the best of both worlds, while the landscapes inspiring the locations for the Jurassic Park franchise is an extremely exciting prospect in Hawaii. With it's towering and intimidating jagged coastline, I'm sure the Na pali coast and northern islands of Hawaii will impress.
6. Share with us some of your best photography tips you use when trying to capture your travel adventures. You have the most picture perfect Instagram feed!
Thank you! It's been a lot of hard work, creating images that we adore and to be able to educate others on travelling to. We are super lucky, but also work extremely hard – around the clock in fact to produce the work you currently see.
Our biggest pieces of advice would be to rise early and begin your day as the sun comes up. It's the least busiest time of the day and usually produces that filtered light that isn't too harsh. If you're looking to plan a trip to capture landscapes and travel imagery, research will be your best friend.
We spend a phenomenal amount of time planning our shots and experiences, often months before we set off. It's crucial that we remain organised and focused to carry out each project we're apart of – something we take great pride in. If you can plan as best as possible, you'll set yourself up well to experience a range of locations and landscapes, regardless of the weather.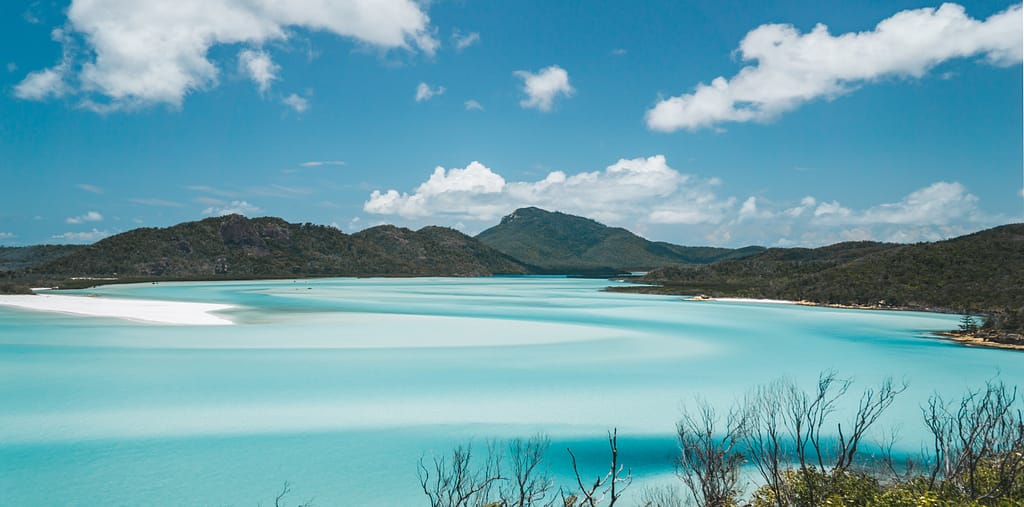 7. You have photographed a range of destinations in Tropical North Queensland. What about the area is so appealing to Australian travellers?
Tropical North Queensland is my original birthplace – so it holds a significantly special place in my heart. The area offers guests and travellers an unmatched variety of adventures, activities, places to stay and natural beauty that's hard to find elsewhere. This alone is what keeps me coming back, time and time again, and no doubt other travellers too.
8. Finally, tell us what it is like to travel for a living to some of the most beautiful destinations on earth? I'm sure it comes with many positives, are there any negatives?
The reason we started working in this industry was to provide others with the information we didn't have upon researching our own trips – to show others that any form of travel is achievable, even if you're on a budget. Being able to share that knowledge and communicate with a community who have so many of the same questions we had has been extremely rewarding.
While it's certainly a privilege to travel so frequently, and like with any job, it can definitely have a few challenges as well. We take quite a chunk of time off away from family and friends, and the work itself is very time consuming – particularly video editing.
It's often hours and hours, days upon days and often months producing high quality work on the go. The more you travel, the more you begin to realise just how important life back home is. It's nice to have a routine occasionally and settle back into the everyday of it all.
---
Follow more of Scott's bucket list worthy adventures here:
---
Related Posts