Not too far from Sydney is a slice of paradise – ivory sands, baby-blue waters and postcard-perfect scenery. Gazing at the forest-stroked headland jutting into the ocean, you could be forgiven for thinking you'd stumbled upon a Hawaiian island.
But this isn't Hawaii. This is Shoal Bay, a different kind of haven. A place where the conveniences of modern life are readily available, but haven't impacted the pristine environs. A place where the locals know each other's names and still stop to say hello in the street, whether you're a lifelong resident or a visitor just passing through.
As part of the Port Stephens coast, Shoal Bay is renowned for its picturesque natural beauty and offers many water-based activities such as fishing, scenic tours and a number of water sports. Given Port Stephens' status as Australia's dolphin capital, it should come as no surprise that dolphin-watching cruises and whale-watching cruises (during whale migration season) are some of the area's most popular attractions.
With about 140 resident bottlenose dolphins, a morning walk along the beach will almost guarantee a dolphin sighting, but, if you want a closer look at these magnificent mammals, then a dolphin-watching cruise is a must. For those visiting during the cooler months between May and November, a whale-watching cruise might get you up close with one of the 5,000 humpback whales making their yearly migration.
Overlooking magnificent volcanic headlands, sparkling waters and sandy shores, Ramada Resort by Wyndham Shoal Bay is arguably one of Australia's best-kept secrets. Just two-and-a-half hours' drive from Sydney and less than 30 minutes' drive from Newcastle airport, this stunning resort caters to singles, couples or families, with a wide range of accommodation options. Choose from studio rooms or one, two or three-bedroom apartments with kitchenette or full kitchen facilities.
If you're looking for the kind of getaway where you can arrive, unpack and not have to leave again until check-out time, then this is the place for you. Multiple onsite restaurants, cafés and bars, and a luxurious day spa means everything you need for a relaxing, indulgent holiday can be found here.
Enjoy the sweeping ocean views at Shoal Bay Resort & Spa's premier award-winning restaurant, Catch at Shoal Bay. Offering diners the best in local seafood and warm, sophisticated service, Catch is open for dinner from Wednesday to Sunday from 6pm until 9pm. Relax with pre-dinner drinks on the balcony; choose from some of Australia's finest wines, like the Hunter Valley Cellar Door selections.
The Promenade Room is the original dining room of the Shoal Bay Country Club Hotel, established in 1934. Enjoy a cocktail in the lounge bar before indulging in five-course buffet menus that feature different nightly themes. The Promenade Room also offers buffet breakfast and international gourmet buffet dinners, with a specialty seafood buffet on Friday nights.
For a delicious a la carte breakfast, casual lunch or lazy afternoon drinks in the sun, head to the Sandyfoot Café and Bar. This laid-back al fresco café and premium wine bar is the ideal place to relax with a freshly-ground coffee or glass of red. Take some time to enjoy the views across the headlands and bay and appreciate the magnitude of Shoal Bay's natural beauty.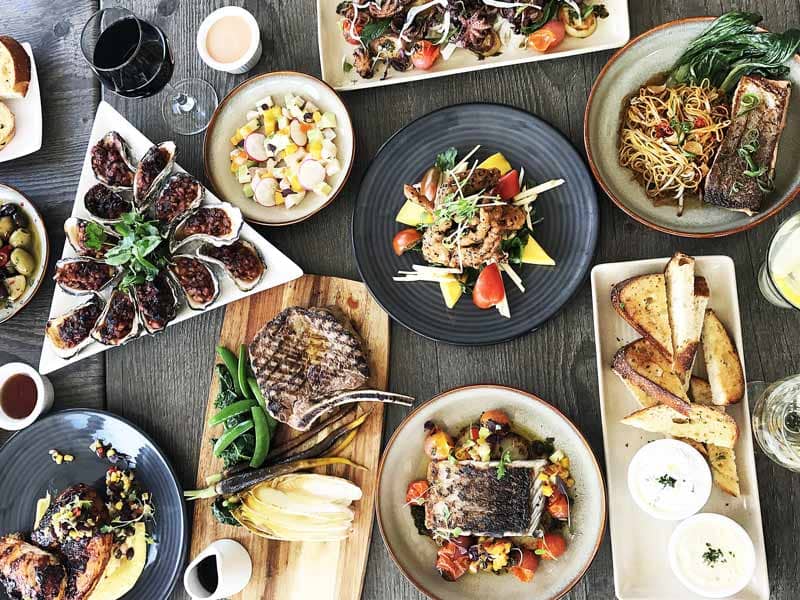 For a casual lunch or dinner for the whole family, SeaRock @Shoal Bay is the place to go. You can also enjoy some post-dinner entertainment (live music is a regular offering on the menu), alongside a mouth-watering selection of cocktails and beers.
The legendary Country Club Hotel is one of the most popular watering holes on the East Coast of Australia, and is located onsite at Ramada Shoal Bay. The recent restoration and refurbishment of the Country Club Hotel has further enhanced the atmosphere of this iconic property; it's a true Aussie pub experience that you can't afford to miss. The Country Club Hotel also has a bottle shop offering a superb selection of wines, beers and spirits for every occasion.
If you've indulged a little too much at the wonderful restaurants and bars Ramada Shoal Bay offers, then you can head to the onsite Lattouf Hair & Day Spa for a quick refresher. Boasting a 25-metre indoor lap pool, three heated indoor mineral spa pools, three aqua therapy rooms, six massage rooms, fitness centre, and gymnasium, and a relaxation room, you can choose to work off the calories or detoxify with a specialised treatment from qualified therapists.
When you've had your share of rest and relaxation, make use of the bike-hire facilities and explore nearby Fingal or Nelson Bay. If you prefer to keep your feet on the ground, an early morning walk along picturesque trails in Tomaree National Park is a great way to start the day. The summit offers panoramic views that sweep across Seal Rocks, Newcastle, the Tomaree Peninsular and Port Stephens.
Other outdoor activities include surfing lessons at Port Stephens Surf School, horse riding on the beach, kayaking, diving, 4WD tours, sand dune quad biking and parasailing. With so much to see and do here, we suggest planning a stay of five nights or more. That said, it doesn't matter how long you choose to stay – you'll always wish you had more time. We'll see you there!
Book Shoal Bay, and start making your bucket-list happen today.
---
Related Posts